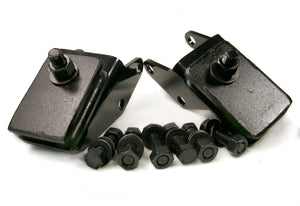 Schumacher Creative Services Inc. - Engine Swaps
'67-72 A-Body V8 K-member to 273/318 - Swap Meet
Regular price
$129.00
Sale price
$179.00
Unit price
per
Swap Meet items are usually blemished/returns, but are checked and repackaged.  We've re-issued the hard-to-find replacement brackets for your 273/318 in a '67-72 A-Body.  Kits include coated brackets, factory style insulators, grade 8 hardware kit, and instructions.  Made in the USA!  
V8 K-member to 273/318 Replacement Kit - A67A
*NOTE* 273/318 brackets & 340/360 brackets are not interchangeable.
---