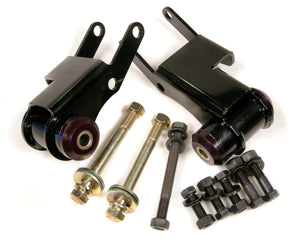 Schumacher Creative Services Inc. - Engine Swaps
'73+ A, B, C, F, M, J-Body Small Block to Big Block - Swap Meet
Regular price
$179.00
Sale price
$229.00
Unit price
per
Swap Meet items are usually cosmetic blemishes or returns, but are checked and repackaged.
Positions a Big Block 383, 400 or 440 engine to factory specs on your original V8 '73 and up A, B, F, M, J-Body (and '74 & up C-Body) K-member while still retaining the bullet-proof quality of Chrysler originals. Complete kit includes coated brackets, urethane spool bushings, grade 8 hardware kit, and instructions. Works on vehicles with or without power steering.  Made in the USA!

NOTE: In order to gain oil pump clearance, the driver's side engine mounting perch needs to be drilled with 9/16" holes and excess material must be removed. This can be done without removing the K-member and is detailed in the instructions.
---